From fine dining to casual fare – we can prepare a menu to suit your taste.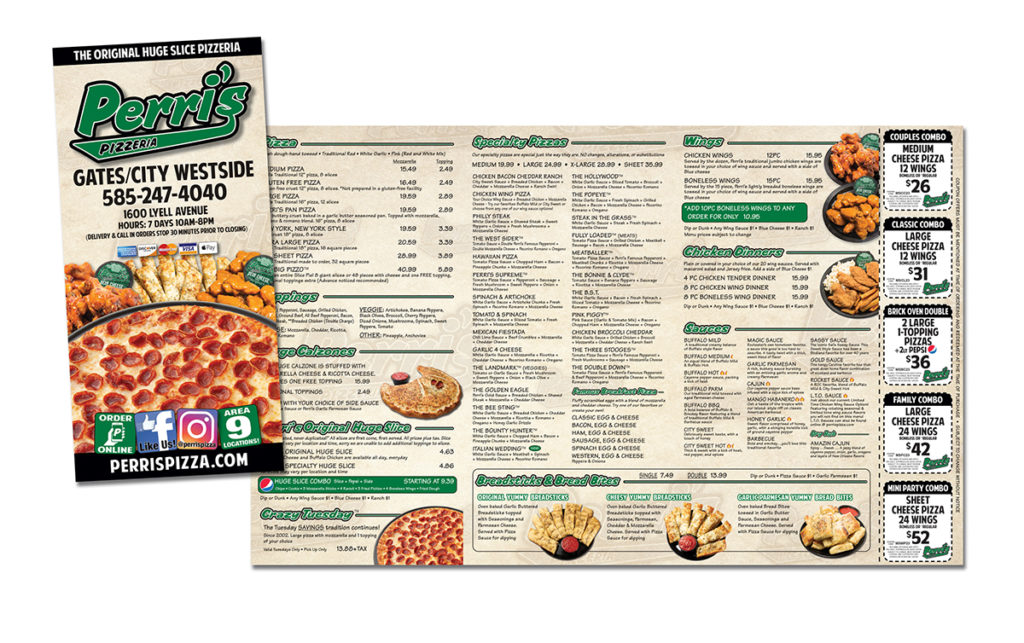 Perri's Pizzeria
A printed menu provides a convenient and tangible reference for customers to browse and make their ordering decisions. It allows them to easily explore the variety of pizzas, toppings, and other menu items offered by the pizzeria. Moreover, a well-designed and visually appealing menu can evoke cravings and entice customers to try new flavors or specials. Additionally, a printed takeout menu serves as a powerful marketing tool, as it can be distributed in various locations, such as local businesses, community boards, or direct mail campaigns, effectively reaching a wider audience and generating brand awareness. It reinforces the pizzeria's professional image, highlights its unique offerings, and fosters customer loyalty by providing a consistent and accessible ordering experience.
The Distillery
A large menu ensures clear visibility and legibility, allowing customers to easily browse and select their desired food and drink options. The readability of the menu reduces confusion and enhances the overall dining experience, improving customer satisfaction. A visually appealing and well-organized menu can act as a promotional tool, showcasing signature dishes, daily specials, and enticing visuals that stimulate appetite and encourage upselling.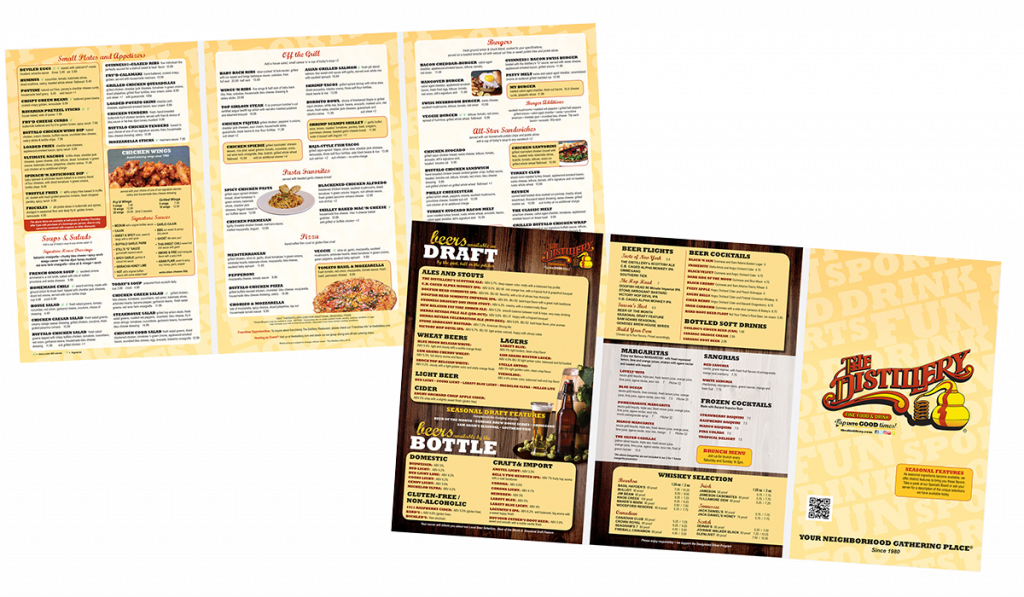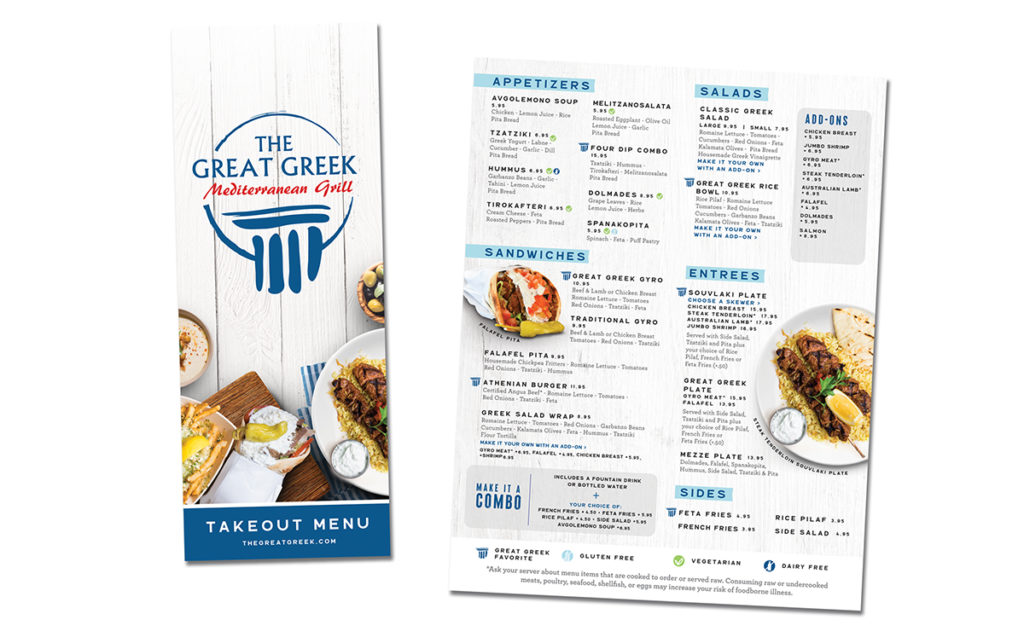 The Great Greek Mediterranean Grill
A takeout menu provides convenience and accessibility for customers who prefer to enjoy their meals at home or on the go. It allows them to easily browse through the menu options, explore the variety of dishes available, and make their selections. By offering a takeout menu, the grill expands its customer reach beyond the traditional dine-in experience, capturing additional sales opportunities.
Also, a takeout menu serves as a marketing tool, showcasing the grill's unique offerings and enticing visuals. It can include appetizing food photography, descriptions of signature dishes, and special promotions to attract and engage customers. A well-designed and visually appealing menu can spark cravings and entice customers to try new flavors or order their favorite dishes for takeout.
Del Lago Spa Menu
A spa menu provides a comprehensive overview of the services and treatments offered, allowing guests to easily explore and select the experiences that best suit their needs and preferences. It provides detailed descriptions of various spa packages, massages, facials, and other wellness treatments, empowering guests to make informed choices about their spa journey.
A spa menu can also serve as a marketing tool, showcasing the spa's unique offerings and promoting its distinct features. It can include beautiful imagery, enticing descriptions, and testimonials to create a captivating visual and sensory experience for potential guests. A well-designed and visually appealing menu can evoke relaxation, rejuvenation, and a sense of tranquility, enticing guests to indulge in the spa's services.